Profile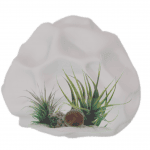 Wearable Biosphere
My Work

A wearable biosphere which could be worn as a constant reminder of the delicate balance of our planet

Description of your idea:

I have designed a piece of art you can wear. The art piece is a hollow 3D object which can be printed in hard see-through plastic which would have a small terrarium garden inside. A terrarium is a tiny system of plants, microorganisms, algae and bacteria that keeps itself alive. It's a system which just takes in light to sustain life within, just like our planet. It would be worn as a constant reminder of the delicate balance of our planet and the role of humans within the system of all living things. The design is inspired by natural elements, rock and coral.

The print would be attached to a pin at the back allowing it to be worn as a piece of jewellery.

The dimensions are length 6 cm, width 6.5 cm, height 4.5 cm. A scaled-up version could be printed as a sculpture that could house larger plants and organisms.

This is  an example of a terrarium.

This is what the finished 3D print will look like with the garden planted inside.

Whose idea:

I have a background in Costume for film, television, theatre and street spectacle. I have designed jewellery and hats from felt in the past.

I am interested in learning more about 3d printing and how to use it into my work.

I am worried about the impact of fast fashion on the environment and I am constantly searching for ways to make clothing and accessories with smaller carbon footprint.

Why is 3D printing this idea a benefit?:

I think 3D printing is ideal for my idea.

Biospheres like the one I have designed are usually made from glass.

Producing glass is energy intensive which increases carbon in the atmosphere.

Glass is limited in the shapes that can be manufactured and is also fragile.

I chatted with Anthony Newell from I-Form and he advised my on how to improve my design to make it suitable to 3d print.

He  suggested using FDM printing in a plastic called PLA which is made from plants. PLA is biodegradable and can be recycled.

The PLA used would be transparent (see-through) to allow light to get to the plants inside to keep them alive.

He advised me that the walls of the terrarium should be 2mm thick to allow lots of light in but to keep the model strong.

During printing model is held up by a PVA frame. This washes away afterwards in water.

Anthony suggested that after printing the brooch could be polished to make the surface smoother and easier to see through.

The design would be made in two parts so that it can be opened to plant the garden inside and then closed again afterwards.

The back will snap into place and it will have a metal brooch pin attached to allow it to be worn as a piece of jewellery.
---
---
---