Profile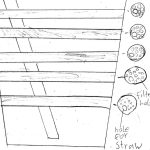 Water Filter
Description of your idea:

My idea is a portable water filter cup which will give people in poverty clean water to drink. This cup would also work in situations like in Ireland where we have boil-water notices.

I got the idea for this design from a Goal visit in my school (Goal is a global charity who come to my school every year), I decided to make a design to help people who don't have enough clean water to drink.

The design will incorporate five filters, each with a series of holes in it. Going down, these holes get smaller, taking the larger particles of dirt out. The filters are all punctured upwards so they can accumulate dirt and residue at the base of each filter plate.

There are ultra violet LEDs in the bottom of the cup to take out the harmful bacteria that the filters cannot remove.

The cup has the potential to stop diseases and save hundreds of lives.

There is a metal straw that goes through all the filters, with an opening 0.5cm from the bottom, to stop the sediment from being sucked up. Although it would be harmless it would be less than pleasant. The metal straw is available in many shops so it's also sustainable.

The dimensions are: Height 14.5cm, Top width 9cm and Bottom width 6cm.

Whose idea:

I am a sixth class student in primary school.

I am very interested helping people who live in poverty.

I am also interested in 3D printing and technology.

Why is 3D printing this idea a benefit?:

3D printing will give the cup better filters and exact measurements. Printing with metal will lengthen the lifespan of the cup and avoid introducing micro-plastics into the ocean.
---
---
---