Profile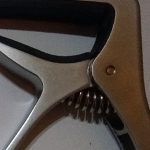 Guitar Capo
Description of your idea:

A guitar capo is a spring-loaded device that clamps to the neck of the guitar and holds down all 6 strings at once that almost all guitarists own. I plan to improve old designs of guitar capos which use too much metal to make and therefore aren't as sustainable as they could be.

My idea is to use generative design applied to 3D printing of a guitar capo. Generative design is a new design method that works out the least possible amount of material necessary for the part based on how big the forces are on the part and where they are applied. This allows designers to use the least amount of material which makes the part lighter and therefore more sustainable to make while still being strong enough for ordinary use. Generative designs have been really difficult to use in the past with older, more limited production methods and computing power, but are ideal for 3D printing.

Devices made using generative design often have a natural, skeleton-like appearance because this is the most material-efficient shape for the structure, as with the human skeleton. This appearance is because our skeletons have evolved over a long time to adapt to the forces in our environment and like this, generative design is used to solve a similar problem quickly for man-made parts like this guitar capo.

I have run a simulation for the upper jaw and here are some of the results:

This updated design allows for approximately a 76% reduction in both material and weight from the previous design of this part for the exact same strength, making it much more sustainable to produce.

Whose idea:

I am a Material Science and Engineering Masters student at University College Dublin. I enjoy rock climbing and the outdoors and I'm very interested in sustainability in manufacturing.

Why is 3D printing this idea a benefit?:

This project is less about the item being printed and more about the design process being used. Products made using this generative design method are lighter, use less material and are 3D printed faster than any other design method.

Because of this they are more sustainable and environmentally friendly. They use less material, less electricity in the printer and less fuel to transport them. I hope to see this technique used more to create a more sustainable future.
---
---