Profile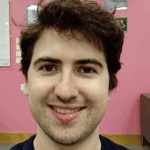 Anthony Newell
About me:

I am a Postdoctoral researcher in I-Form. My current research focuses on Design for Additive Manufacturing (DfAM) using Computer Aided Technologies for improving production strategies.

My work has also included life-cycle analyses of Additive Manufacturing production methods. Life-cycle analysis is used for informing manufacturers of the environmental impact and sustainability of different part designs.

With previous experience in chemical and materials engineering, inorganic experimental chemistry, and metal powder surface chemistry I have developed expertise in both the low-level and high-level aspects of DfAM, especially for metal and plastic parts.

I would like my research to impact both sustainable technology development and sustainable manufacturing which is used to improve manufacturing time, cost and quality.

When I'm not in the office I'm usually either cycling, cooking, discussing philosophical ideas or making stupid jokes with friends.
---
---